Several years ago I was in a new role that required me to give a presentation to the largest audience I'd ever spoken to.
As I prepared for that event a part of my mind wanted to focus on everything that might go wrong,
While the other part of my mind just wanted to listen to my heart and focus on the opportunity.
I chose to listen to my heart and had fun preparing the presentation.  However, as the date of the event grew closer, the fearful part of my mind started raising doubts again.
In the midst of those thoughts I remembered tips from speech tournaments – tips like visualizing your audience in their underwear.  (After a quick giggle at that idea, I dismissed it, wondering how anyone could do that and actually make it through a presentation!)
At the same time, I knew that I needed to confront the flashes of doubt that my mind was generating.
So I paused to consider an alternate state of mind.
Immediately images of the summer camp that I had worked at as a teen flashed through my mind and then paused as I focused on the nightly campfire events that were filled with music, skits, laughter, lessons and encouragement.  In that setting there were no podiums, no microphones, and no Power Points – but there was authenticity, understanding, fun and growth.
Instantly I knew I had my answer, I just needed to picture this speaking opportunity as if it was "my campfire" and then bring the best I had to offer to the audience (AKA – The Campers).
When the day of the event arrived I was the second person to present and immediately we had audio/visual challenges.  However, instead of panicking, I was extremely calm simply because my mind was already at the campfire connecting with and serving people I cared about.
When the presentation ended several people commented on how well I'd done under pressure and asked how I did it. Their response actually surprised me, simply because the campfire had created such a safe place for me that I wasn't bothered by the things in the room that were outside of my control.
Today I mentally visit "my campfire" each time I prepare for a presentation and stand in front of a new audience.
Next week I will be speaking to an audience on the other side of the world without being able to see them.  It's the first time I won't be able to read an audience's body language as I share with them.  (For a speaker that is a HUGE handicap!)  In spite of the unknowns, I am focused on giving them a campfire like experience and instead of feeling doubt, I'm excited about the opportunity!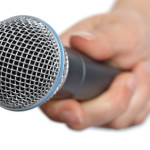 How about you?
---
When doubt whispers in your ear, do you listen? @GianaConsulting
Click To Tweet – Powered By CoSchedule
---
Do you dwell on those thoughts giving birth to fear?
Or do you confront them?
If you confront them, what do you focus on that helps you stay calm?
Want more on this topic?  Check out the links below:
Photo Credits:  iStock
When doubt whispers in your ear – What do you focus on? is a post from: Simply Understanding Blog by Giana Consulting | Change Begins With Me
The post When doubt whispers in your ear – What do you focus on? appeared first on Simply Understanding Blog by Giana Consulting | Change Begins With Me.