"For what you see and hear depends a good deal on where you are standing: it also depends on what sort of person you are."  C.S. Lewis

In less than 8 hours after I arrived in the country we will be living in for the next 3 years, my husband and I were taken to our new villa.
As we toured our new home, we were impressed with this modern, open, well-furnished space.
Towards the end of the tour we walked past the kitchen and the half-bath, past the laundry room and the storage closet to a small room in the back of the house that is just a bit bigger than the storage closet.
The room has a small tinted window in the room that lets some light in but it is so high you can't see out of it.  There is a small air conditioner, and off to the left of the room is a small watertight door.  When you open the door it reveals a tiny bathroom with a fluorescent light, a sink, a toilet and a shower wand.  (No tub, no shower curtain, and no way to keep the water from flowing through the entire bathroom if you shower.)
Yes – This tiny, claustrophobic space is intended to be the maid's room.
Immediately I struggled wondering how I would feel if that tiny space in the back of the house with no window to look out of was mine…  Wondering how I could even consider hiring someone to live in quarters that are significantly less than what we have.
I took a few pictures and sent them to close family.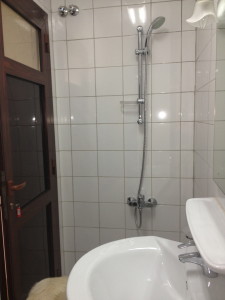 I moved our dog's travel kennel and dog food into the room and thought the shower may work well as a dog shower.  (Although the first day I took our dog in there to use it, we were both bothered by the little box we were in.)
Yesterday I visited with a friend that has lived in this country for 10 years.  She spoke of homes where the maid slept in the laundry room on a small mat so she could have air conditioning and did not have a bathroom of her own.
Which lead to a discussion about perspective.
If you have not had a roof over your head, never had a/c, if you have had to share a room that size with many other people, or had to use an outdoor biffy, or had to wash yourself from the river or with a hose from the sink these accommodations suddenly look inviting.
So today I'm considering perspective…
 

I'm trying to imagine what it is like to have so little, that this space would be a blessing.  (There's no doubt that it could be a blessing to someone with nothing.)

 

I'm trying to imagine being happy living in that maid's room.  (My mind keeps shuddering at the thought.)

 

And I'm still questioning if I could ever feel good about providing accommodations for someone else that are so much less than what I have. 
Please share:  What situations are you in that are causing you to ponder your perspective?
Is it all just a matter of perspective? is a post from: Simply Understanding Blog by Giana Consulting